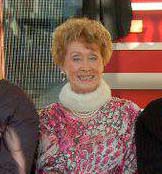 Anna Sigríður - Elegant, Always
My mother the elegant lady was Anna Sigríður Hauksdóttir, born June 6th, 1931. She loved life, and would have liked to stay much longer on this side. When she passed away, at the age of 83, she didn't look a day older than 65. The reason? She took care of herself.
What I mean is, she tried to keep her meals as healthy as possible, she exercised, kept her mind sharp by playing bridge, and placed an emphasis on her appearance.
Now, why is that important? How you look? As she said, the way you appear in the eyes of others, defines how you feel towards yourself. If others regard you in a positive way, you're more likely to have a positive opinion of yourself.
When we first had this discussion, I was a tired mother of four, aged 2-14, and couldn't for the life of me understand what she was talking about. But as I grew older, I began to realize she was right. It works both ways. If you respect yourself, people will respond in kind, and vice versa.
Elegant is in the Eye of the Beholder
What she also said was that what you wear isn't what's important. What really matters is that your hair is clean and well kept, and that your shoes are brushed! What's in between comes second!
And what did she do? She made sure her shoes were brushed. And if her hair was messy, she put on a turban. Whether she was buying a last-minute item at the grocery store, or attending a gala dinner, she always looked impeccable.
Why am I mentioning this? Because when she passed away and I went through her wardrobe, I had a shock. The woman who I had always admired for her astonishing looks, actually had very few clothes in her wardrobe. She simply mixed-and-matched her items so it looked like she was always wearing something new.
What's more, many of her clothes were mended and re-mended. She didn't throw things away just because they were worn. She fixed them, and no-one was the wiser. You would never have known this by looking at her.
In today's disposable society, this is one thing we could really take into consideration. Instead of throwing away things that break, we should fix them. And if we don't know how, we should either learn how, or get someone to do it for us.
I've noticed that here in Iceland there have recently been ads for courses where people learn how to alter clothes, which is wonderful. You may have changed sizes, either gone up or down in weight. You may have inherited something that doesn't fit you. Or you bought something on-line that was the wrong size when it arrived. Whatever the reason, it's more sensible to alter, rather than throwing away only to buy new.
And there are plenty of people out there that alter clothes for a living, and do it well.
It's probably a result of my upbringing, I've always had difficulty with throwing away things. Ask my husband?!? In my designs, for example, I use cashmere sweaters that I buy from the goodwill (Red Cross in Iceland) with which I line the mittens that I make. Sometimes the sweaters felt too much for me to be able to use them as lining. Instead of throwing them away, I make mittens from the cashmere only.
Now, have a think – next time you have the urge to discard a dress or a shirt, could you alter it instead?